The Best Deadlift Program for Beginners
What is the best deadlift program for a beginner in fitness? You know the impressive benefits of deadlifts to get lean, gain muscle, and want to transform your body.
Or you want a deadlift program to compete in powerlifting.
The aim of this post is to provide a 12 week program for you to accomplish either goal. No matter what your age.
Deadlifting for Weight Loss and Fitness
Did you ever think of deadlifts as a tool for weight loss and fitness? There is a good chance that you have not.
Walk into any gym, and you will see many more treadmills than deadlift platforms. Go to the weight training area, and you still will not see many deadlift workout stations. You will find various isolation machines to work individual muscles. As well as benches for dumbbells, bench presses and incline bench presses.
In fact, you will rarely see a deadlift workout area (unless you're in a powerlifting gym.) You will find power racks for squats and Romanian deadlifts. Barbells and kettlebells, but you will not find a specific workout station to do deadlifts. When you want to deadlift, you have to improvise where you can do your deadlift program.
Inside a power rack, with the safety rods removed. Outside the power rack, but you run the risk of getting in the way of people walking by. Find some other patch of gym turf where you can set up for deadlifts.
The point is that when people go to a gym to workout, they are usually not thinking deadlifts. Especially people who are overweight. Those who fight the battle of the bulge gravitate to walking or sitting exercises. The treadmill or the leg extension. The sitting bench press machine or the leg curl machine. When do you see an overweight man or woman doing a deadlift workout?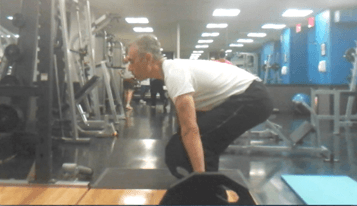 The Power of a Simple Deadlift Program
A simple deadlift program can help and accelerate your quest to get fit or fitter. If you are overweight now, stop thinking about machine workouts and start thinking about free weights. The weight room is intimidating, granted. But, you can really make great fat loss progress if you stick with a deadlift program.
The deadlift is not a very complicated move. But, it is not easy either. You have to stand up, bend down, keep great form and lift the weight off the ground to a standing position. You can read more about how to deadlift with proper form here and here.
The main point of this post is to make you aware that a deadlift program is an excellent tool to lose weight and get fit. And, I will spell out a simple deadlift program that you can start (with your doctor's permission) and grow with. You need to eat right, deadlift and rest. If you do these three things, your body is going to change.
You only need to deadlift once a week. Some people advocate deadlifting every other day or twice a week. But, I think that once a week is sufficient to see results. Especially if you also do a squat and bench press workout one other day of the week. If you do squat, do your deadlift workout about 3 days after your squat workout. They both work your legs hard and you need to rest in order to increase your muscle mass.
Why the Deadlift?
The simplest answer is that the deadlift works more muscles than just about any other weight training exercise. Other than the squat, the deadlift reigns king over all other weight training. Why go to the gym and sit in a chair to lift weights? You are just isolating specific muscle groups. You will gain much more by targeting all the muscles of your body at the same time. The deadlift is the full body weapon to accomplish that goal.
Many great athletes have just focused on the deadlift to improve their skills. Even in sports that on the surface, have little to do with deadlifting. Take running for example:
Allyson Felix Deadlift Programming Results
Barry Ross, US Track and Strength Coach, created one of the most famous strength programs for Allyson Felix back in 2002. He chose the deadlift as the centerpiece of her strength training workout. Because the deadlift works a greater percentage of the muscles and involves multiple joints.
"Why waste time and energy on squats or leg press machines?" Ross wondered aloud in his 2004 article 'The Holy Grail of Speed Training".
In ten months, Allyson's deadlift went from 125 pounds to 300 pounds. As a result, her 200-meter sprint time improved and she ran the fastest 200 meters in the world (without resorting to drugs) for all women.
The deadlift helped Allyson Felix win gold at the 2012 Olympics in the 200 meters. As a result of becoming a phenomenal Olympic champion, Allyson Felix's net worth is now over 8.5 million dollars. If world class athletes can benefit from deadlifts, so can you. You just have to start.
12 Week Deadlift Program to Crush Obesity
Leave a rest period of 3 – 5 days between squats and deadlifts.
For example, if you deadlift on Monday, do your squats on Friday, or vice versa.
If you are a beginner, start slow, with light weights or even no weights.
Focus on form, never sacrifice form.
Estimate your 1 Rep Max also known as 1RM.
Are you wondering how much you should be able to deadlift? John of Physicalliving.com reports that "Strength training and weightlifting experts, Mark Rippetoe and Lon Kilgore, estimate that an average 198 pound male can lift 155 pounds even without training (i.e. untrained beginner lifter). After a couple of years of proper training, that same lifter should be able to deadlift 335 pounds (i.e. intermediate lifter)
For example, if you can lift a 45 pound olympic bar with proper deadlift form.
And that feels heavy to you, then that is your 1RM.
If you can lift 100 pounds on a barbell, one time, then that is your 1RM.
Don't go crazy trying to figure it out, just make an estimation based on what feels heavy to you.
Always warm up before your deadlift workout.
Walk, run, do elliptical, jump rope or jumping jacks for at least five minutes and stretch out your legs.
Focus on excellent nutrition.
Eat vegetables, fruits, nuts, lean protein
Learn how to cook for yourself
To learn why and how to deadlift, check out the following related posts here and here.
Don't Make These Deadlift Mistakes
Week 1 of Your Deadlift Programming
Every deadlift workout will follow the same pattern.
We will use an estimated 1RM of 200 pounds to illustrate a sample deadlift program.
First deadlift warmup set: 12 reps using 100 pounds or 50% of your 1 Rep Max.
Second warm up set: 8 deadlifts using 120 pounds or 60% of your 1RM.
Third warm up set: 5 deadlifts using 150 pounds or 75% of your 1RM.
These are your deadlift work sets.
2 sets of a rep range of 4 to 8 reps with 160 pounds or 80% of your 1RM.
Weeks 10 – 12 of Your Deadlift Program
When you can comfortably handle 8 reps at 80 percent of your 1 rep max, now you can increase the deadlift weight.
Gradually increase the weight, using 5 or 10 pounds additional weight.
Start your work sets at a new weight using a rep scheme of 4 reps and build up to 8 reps. Then you can increase your deadlift weight again.
Take a Break
It is not a bad idea to schedule a break of 1 week after every 12 weeks of deadlifting. You can do accessory work like stiff leg deadlifts, Romanian deadlifts or good mornings, and then begin a new 12 week deadlift program cycle.
You have to go on vacation or do something else a few times a year, right?
If you are an advanced deadlifter, check out this deadlift program from Josh Bryant. or Paul Carter.
Conclusion
You do not have to become the strongest guy or woman in the gym to benefit from deadlifts. In fact, you do not need to use heavy weights, insane volume or heavy deadlifts to get leaner and stronger than you think possible.
This 12 week deadlift program will help you lose weight and get fit.
The deadlift is one of the most powerful tools I used to lose 75 pounds and 18 inches off my waist in 6 months. Yes, I was as shocked as you will be.
Food is your friend, not your enemy. Just eat the right foods and you will see results. Deadlifts are one of the most powerful exercises in your arsenal. Feeling and getting fit, getting as healthy as possible is the real goal, not just losing weight.
Please share your experience with this or your own deadlift program. And or make some suggestions for improvement, thank you.
Read more: https://hashimashi.com/deadlift-program/#ixzz5Ug4wxc2k